Texas Journeyman/Master Sign Electrician contractors and technicians exam preperation and continuing education.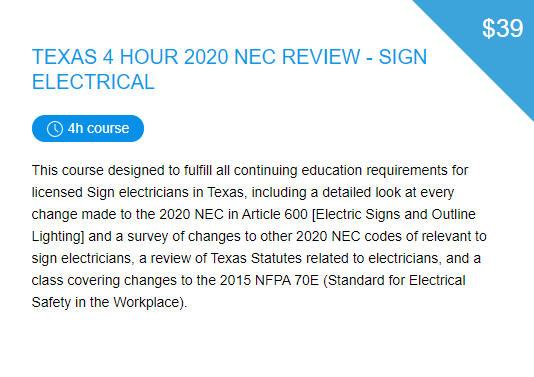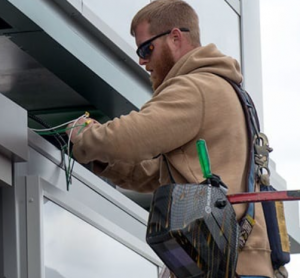 Be incredibly successful. Invest in yourself.
In Texas, applicants must obtain pre-approval from the state licensing board before testing. Qualification Requirements: 8,000 hours of on-the-job training under the supervision of a master or master sign electrician; passing score on the journeyman sign electrician examination. The course above includes highlighting guides, practice tests, theory, calculations, instructor support and test taking tips/strategies. Online education Sign Electrical Technician. We are here.
Sign Electrician Who Must be Licensed?
With the exception of certain allowed exemptions, anyone who performs electrical work in the state of Texas must be licensed.
Electrical work is defined as:
Any labor or material used in installing, maintaining or extending an electrical wiring system and the appurtenances, apparatus or equipment used in connection with the use of electrical energy in, on, outside, or attached to a building, residence, structure, property, or premises
Service entrance conductors, as defined by the National Electrical Code.
---
Experience Qualifications
To apply for a Journeyman Sign Electrician license, you must have completed 8,000 hours of on-the-job training under the supervision of a Master or Master Sign Electrician licensed in Texas.
You will need to contact and obtain verification from each Master or Master Sign Electrician who supervised you.
This experience must be documented and signed by each supervisor on an Experience Verification Form (PDF). Your license application form (see below) will include one attached Experience Verification Form. Each supervisor should complete a new form.
If you cannot reach your supervisor(s) directly, you may be able to contact the Electrical Sign Contractor that the Master or Master Sign Electrician worked under and request that they have the Master or Master Sign Electrician contact you. If you do not have the contact information for a Master or Master Sign Electrician or Electrical Sign Contractor, you may try using the TDLR license search to obtain their contact information.
---
Application and Fee
You must apply by mail for the initial license application.
Submit a completed Journeyman Sign Electrician License Application Form (PDF) with the non-refundable $30 application fee to:
Texas Department of Licensing and Regulation
PO Box 12157
Austin TX, 78711-2157
Electrician licenses are valid for one year from the date of issuance and must be renewed annually. Renewals may be completed online.
---
Examination
After your completed application has been received and verified, you will receive notification that you are approved to take the licensing exam.
Please see the examinations page for detailed information, including required fees.
---
Applicants with Criminal Convictions
If you have ever been convicted of a felony or misdemeanor (other than a minor traffic violation) or pleaded guilty or no contest (resulting in a deferred adjudication) to any in-state, out-of-state or federal criminal offense, you must provide a completed Criminal History Questionnaire (PDF) along with your application materials.
Texas TDLR department will conduct a criminal history background check on all persons who apply for or renew a license. Criminal convictions are reviewed on a case-by-case basis. Licenses may be denied based on the nature of the conviction and how long prior to the application the conviction occurred. Depending on your criminal history, a review can take from one to six weeks to complete.
Individuals may request TDLR review their criminal background before actually applying for a license. TDLR uses the same process for this pre-application evaluation as the process described below. See the Criminal History Evaluation Letter page for more information.
Please see the Guidelines for License Applicants with Criminal Convictions, which describe the process that TDLR uses to determine whether a criminal conviction renders an applicant an unsuitable candidate for the license, or whether a conviction warrants revocation or suspension of a license previously granted.
https://www.tdlr.texas.gov/electricians/apply/individuals/journeyman-sign.htm
Last updated 09/24/2021